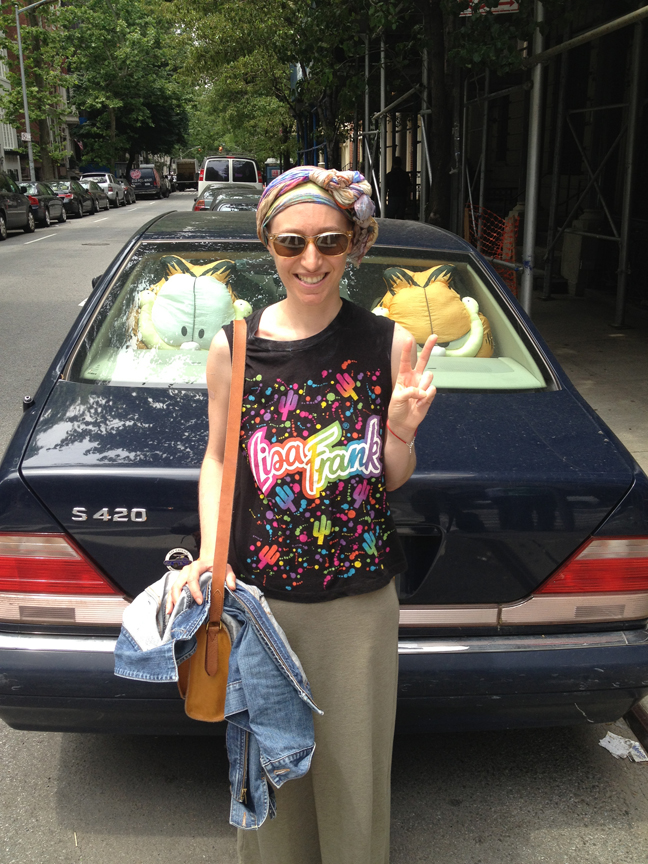 I was pretty psyched yesterday to break out my new Lisa Frank muscle shirt that I ordered from Urban Outfitters. I also got some posters to hang in my room! Hah! I spotted this amazing car with Garfield in the backseat and it seemed like an appropriate spot to strike a pose! I even went to yoga in this outfit and felt kinda out of place around the other white turbanites at Kundalini Yoga East. I'm sorry but that place just doesn't fit my vibe. This dude behind me was belching loudly the entire time and he was clearly a regular. I just think that's inappropriate and rude. I know some people can't help but let a fart out in yoga but you can definitely stop yourself from burping 20 times. Right? I mean maybe I'd let Garfield get away with it…I'll give the studio another chance since I bought the unlimited monthly pass but I'm probably gonna go to Golden Bridge most of the time since it's so lovely.
Today I got some pretty exciting care packages! First, another giraffe from my Cousin Cathy!!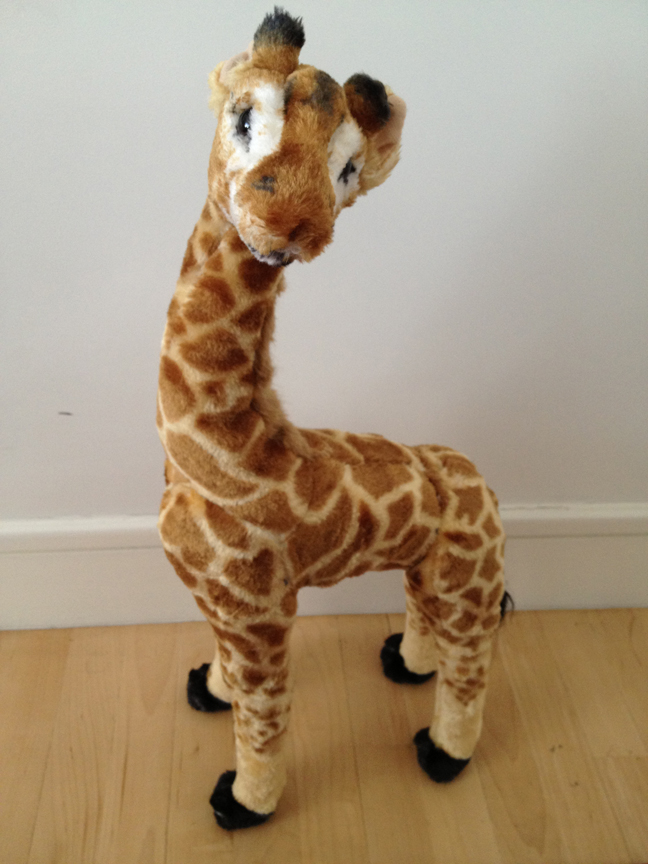 Let's close our eyes and picture him in Lisa Frank colors….Taaadaaaa!!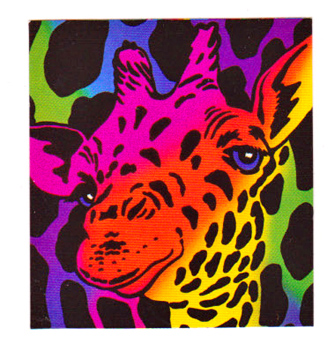 Uh-oh, in searching for that image I just stumbled onto a website of vintage 1980s stickers that I made need to place an order from…
The other care package was from my friend Jocelyn who sent me some amazingly colorful yarn. Totally Lisa Frank colors!!!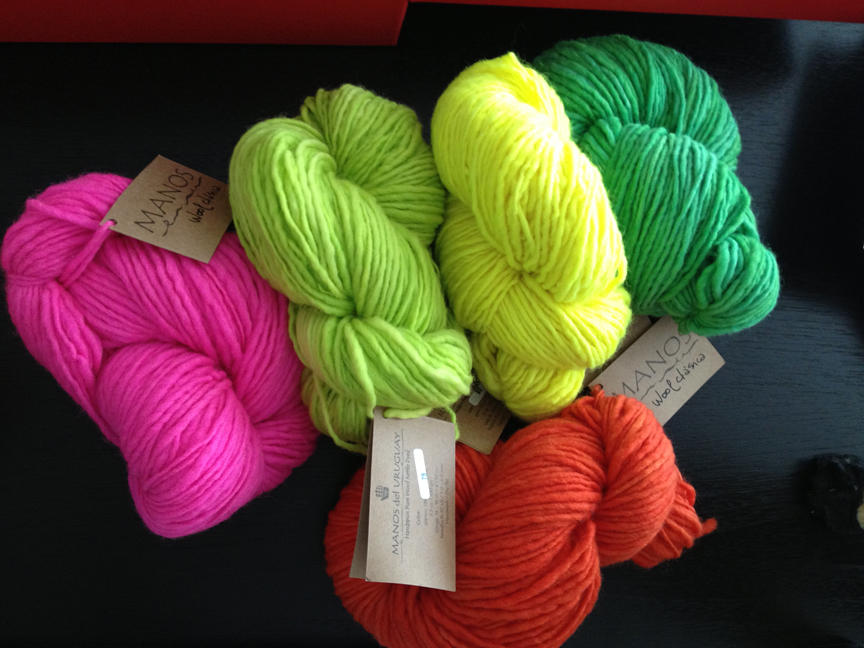 The yarn comes from a company called Fairmont Fibers where it's hand spun and dyed by women in Uruguay! Jocelyn is going to come teach me to crochet and maybe knit too. My grandma was a crazy crochet lady and she taught me once but I don't remember. Nana used to crochet so many blankets that we had to start donating them on a weekly basis to the Ronald McDonald house in the neighborhood. She was a one woman factory! I've got a bunch of her classic blankets that I cherish. She would often use some pretty crazy colors too! My friend Jocelyn has her own yarn business too called O-Wool that you should check out! Her website has tons of patterns! She is so rad!
Another package I opened today but arrived a month ago was from the Integrative Nutrition program I enrolled in!!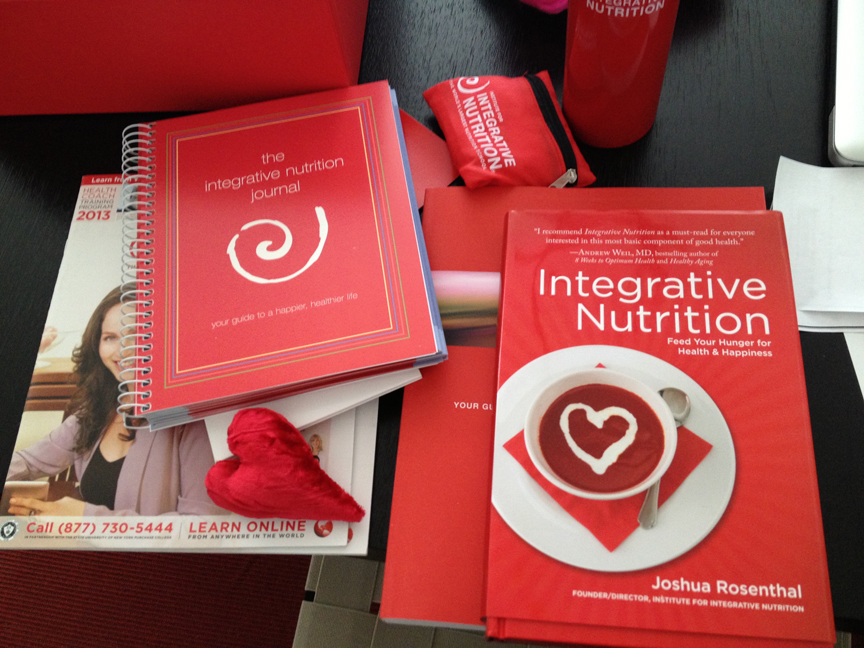 I am psyched to start reading all the materials and learning about all this stuff!! And then I can share it with you! Hooray.
Speaking of good eating. Today, a chef from The Smile that Melia introduced me to came to cook for me as a trial. Her name is Rachel and she is super nice! Here's the items she cooked for me today: Millett and Fig Muffins (which blew my mind), Quinoa with Mushrooms and Arugula, Lemon Poached Salmon, Squash and Red Lentil Soup, and Israeli Cucumber Salad! Here's a pic of the muffins and the cucumber salad: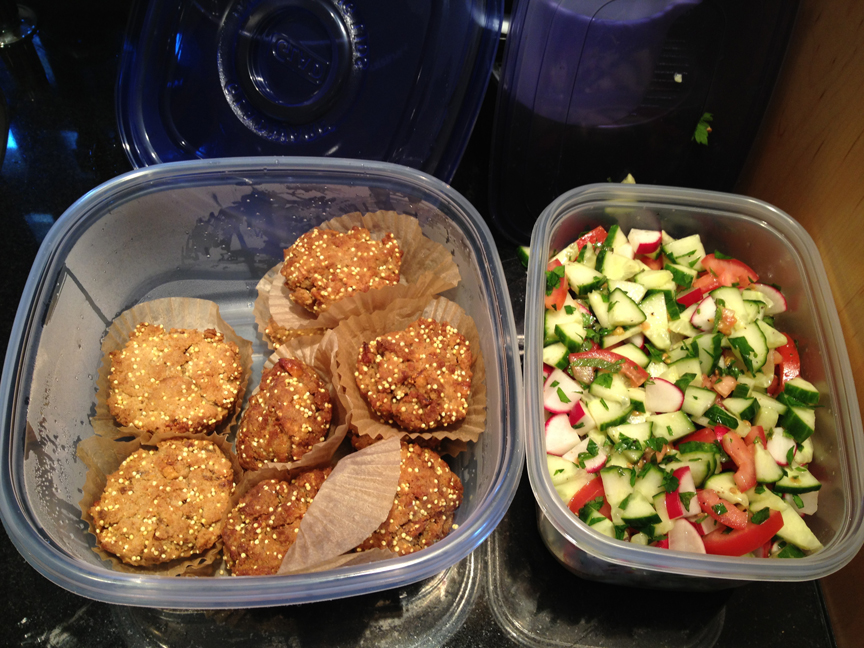 Rachel and I were talking about how much we love Martha Rose Shulman from the times and I was telling her about Martha's article today in the dining section about how she is a secret pastry chef cookbook author and that she makes tons of desserts at home despite being known as the healthy food columnist.
Well, I'm off to chemoland tomorrow so if you don't hear from me for a few days, I may be sleeping or resting (in Lisa Frank colors of course). But I got acupuncture today so hopefully I won't be too tired in the next week. I'm going to try to go to my close friends wedding this weekend in Westchester if I'm feeling OK. Plus, the Renegade Craft Fair is this weekend in Brooklyn and I'd really like to check it out. My friend Chen will be selling her amazing Late Greats dolls and I want to see her shining face too! I used to sell my goods at the fair ages ago so it would be fun to see what people are crafting these days!! Maybe I can set up a bootleg Radio Flyer wagon and sell some of my painted shells and lemonade. Hahahahahaha. Ok ciao!