Hello! Happy New Year! So unfortunately I've been feeling pretty darn awful for the past few days. The pelvic radiation is really taking its toll on me but luckily I am officially done with all radiation and now I can just recover! To my dismay, the docs say the symptoms could continue for several more weeks (eek!). I will spare you the details but its digestive and incredibly painful. Today I got the ultimate trio of integrative treatments (Reiki, Acupuncture and Massage!) and I'm actually feeling better than I have in days right now so that is a relief. Despite how I've been feeling, I still had a great time with my friends on New Year's. Friends and laughter are truly the best medicine.
So I asked Maura to make me a donut pillow to sit on (because it's uncomfortable for me to sit most of the time) and look what she made! She is a freaking genius!!!
Here's my friend Driscoll posing with it in front of his head!!! If only you could hear the hilarious voices he was making. Hahaha!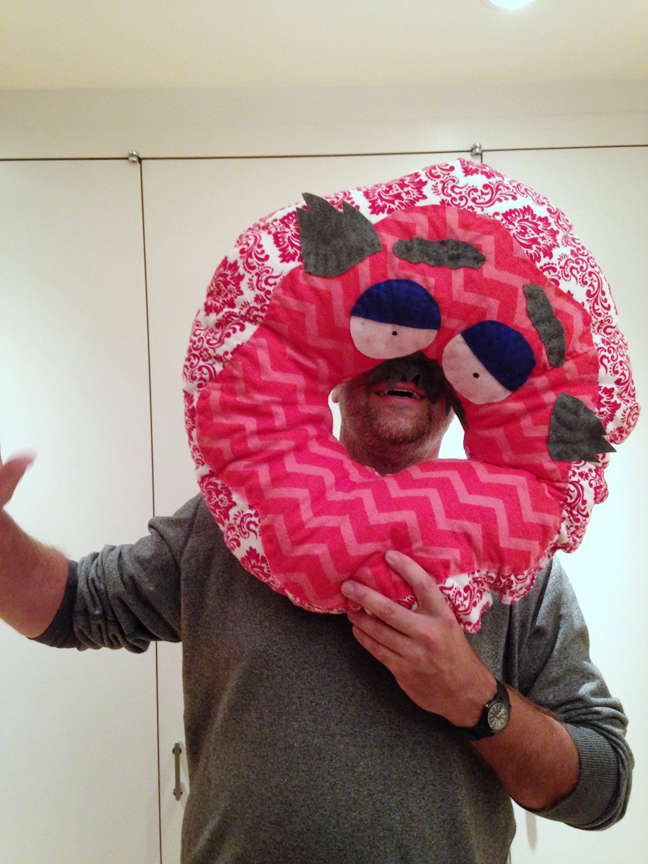 For the party, I asked Rachel to make a gluten-free vegan lasagna and it came out so UNBELIEVABLY DELICIOUS. I cannot even express in words how freaking good it was but everyone agreed that it was better than real lasagna! Here's Steve taking it out of the oven!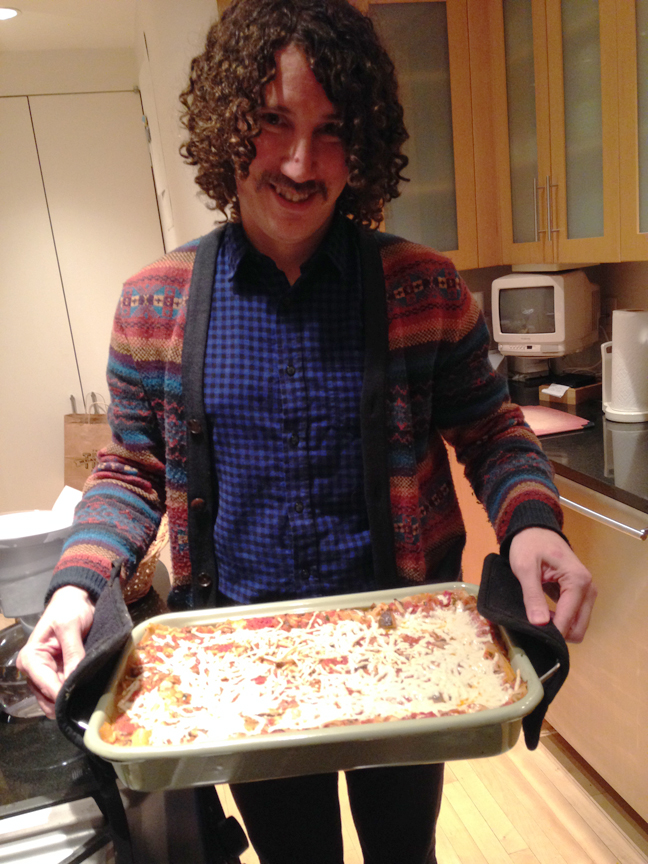 And here's a close-up!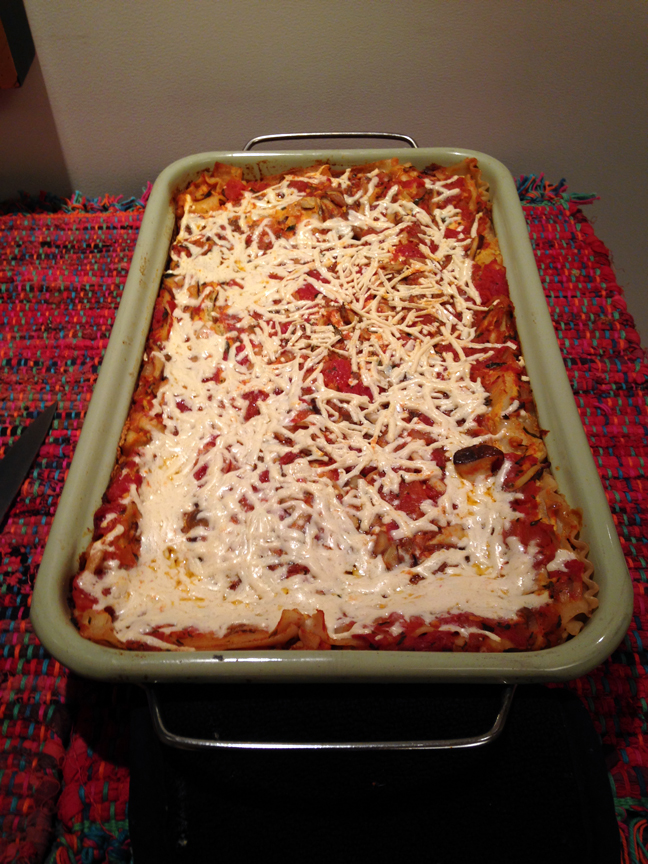 I cobbled the recipe together from a few different sources so here's a rough recipe for you. So she used just a gluten-free brown rice lasagna (alhough you could def use zuchhini in lieu of pasta! Then for the sauce I asked her to make a tomato sauce from the Crazy Sexy Kitchen cookbook. It's pretty basic and any sauce would be fine! Then, the cashew cheese is from the Candle 79 cookbook Here it is:
Cashew Cheese
3 cups raw cashews soaked overnight
2 tablespoons nutritional yeast
1 tablespoon lemon juice
1 tablespoon olive oil
2 tablespoons water
6 basil leaves
1 tablespoon parsley
Combine ingredients in a food processor and process until smooth and creamy.
Then as an additional item, I asked Rachel to make this Mushroom Ragout from Martha Rose Shulman from the NYTimes to use in it too. I asked her to leave out the flour and wine. And finally, she topped it with some vegan Daiya cheese which is kinda processed and probably not that healthy but it made it look super pretty! As for proportions, I had her double that cashew cheese recipe above and I just said to make enough to layer everything. I seriously recommend making this if you want to have a delicious feast! And for dessert, my friends are amazing and went to Babycakes and got a vegan gluten free chocolate cake!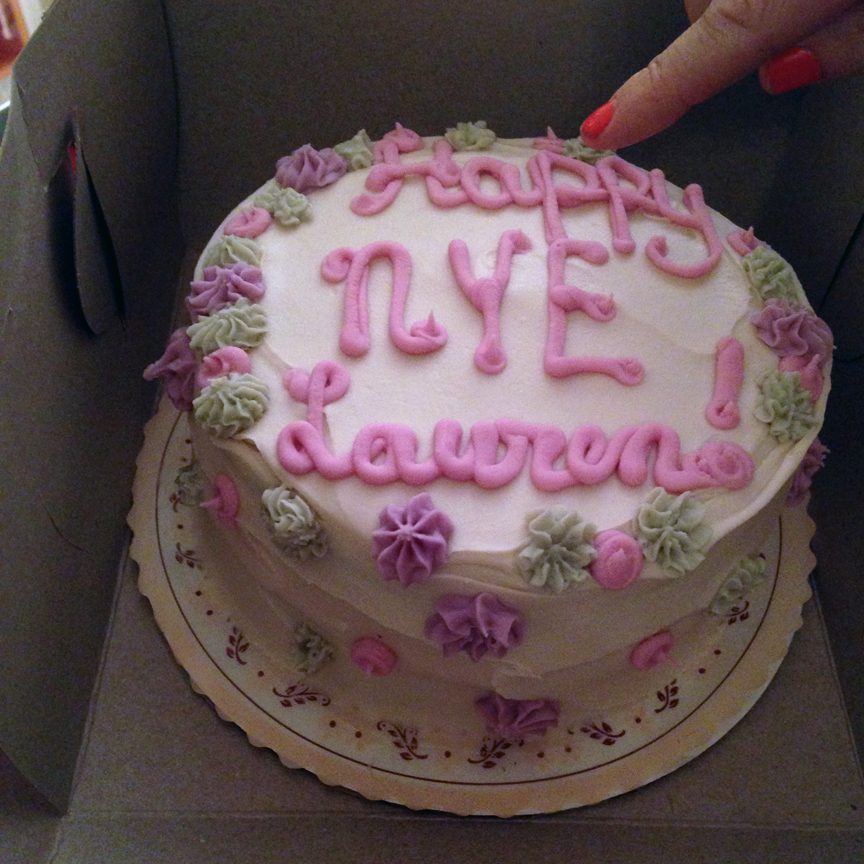 After dinner we watched Muppets Take Manhattan which is my fave muppet movie ever!!! I was blown away by the vibrant colors in the movie! So amazing!
So I'm in a really rough patch right now but I'm holding on as best I can. I didn't anticipate that radiation would be so much harder than chemo! But let me tell you that it is!!!! Having Steve here has been so helpful and wonderful and I'm so sad he has to go back on Saturday! I think instead planning a beach vacation for my birthday, I am going to go to LA for the week and rent a house for the birthday weekend up in Ojai with all my buddies from NYE. I found this amazing looking house on AirBnb!! I def wanna go to the Caribbean or somewhere similar in the next few months but I think planning ahead will be better! Alright homies! If you are in NYC, I hope you are enjoying the snow out there! Love to all! xoxo Lauren