Yesterday morning I awoke to the arrival of two different care packages. One was home-made cookies (more on those later) and the other came in this curiously shaped box.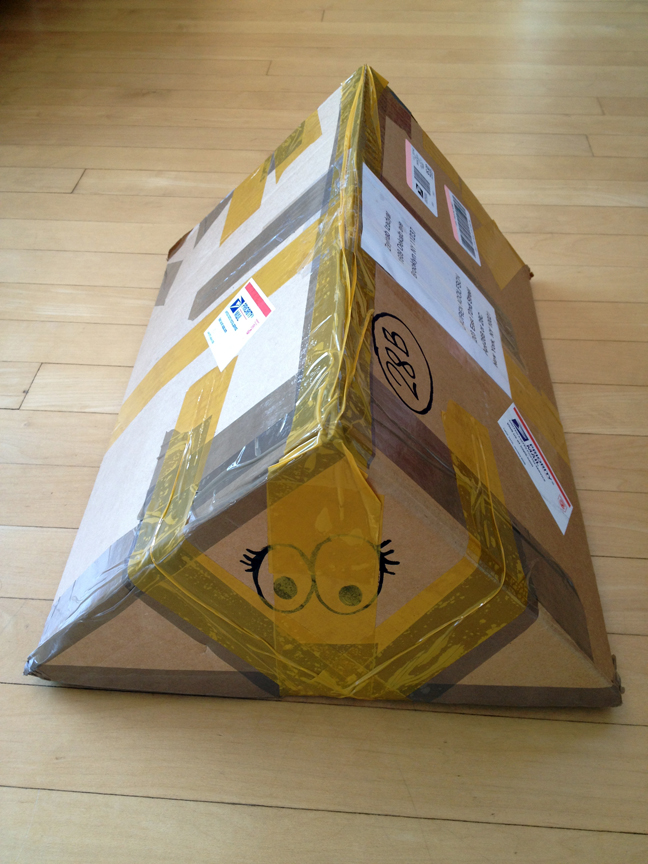 The return address was from my friend Zeynab from grad school who I hadn't spoken to since my diagnosis. We had emailed briefly back in April when all the crappy doctors kept telling me I had a ruptured cyst because I knew she had one when we were in school. Anyhoo, I was completely overwhelmed with amazingness when I opened the box.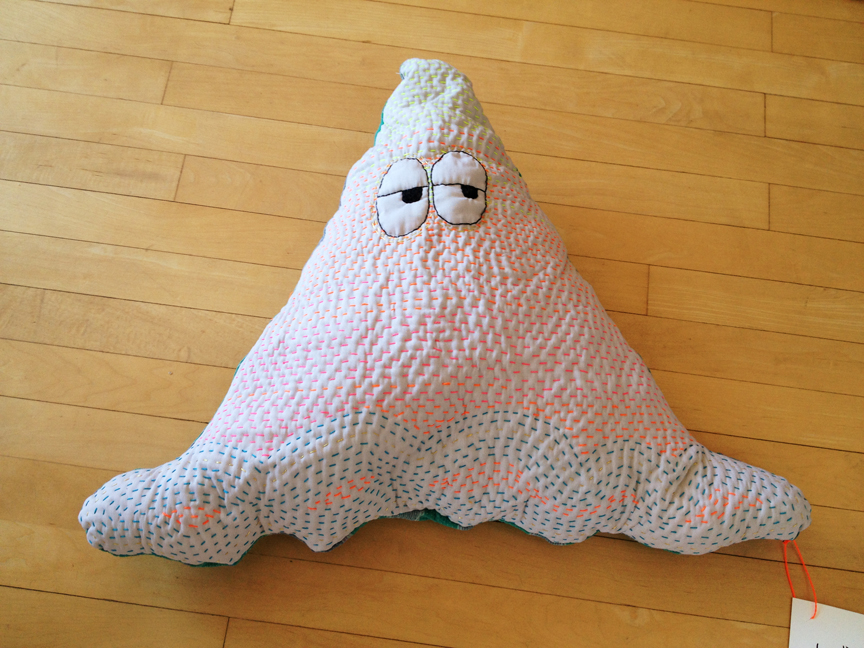 Look familiar??? He's got my fave cartoon-style eyes!! And he's hand embroidered!! Now get ready for the back.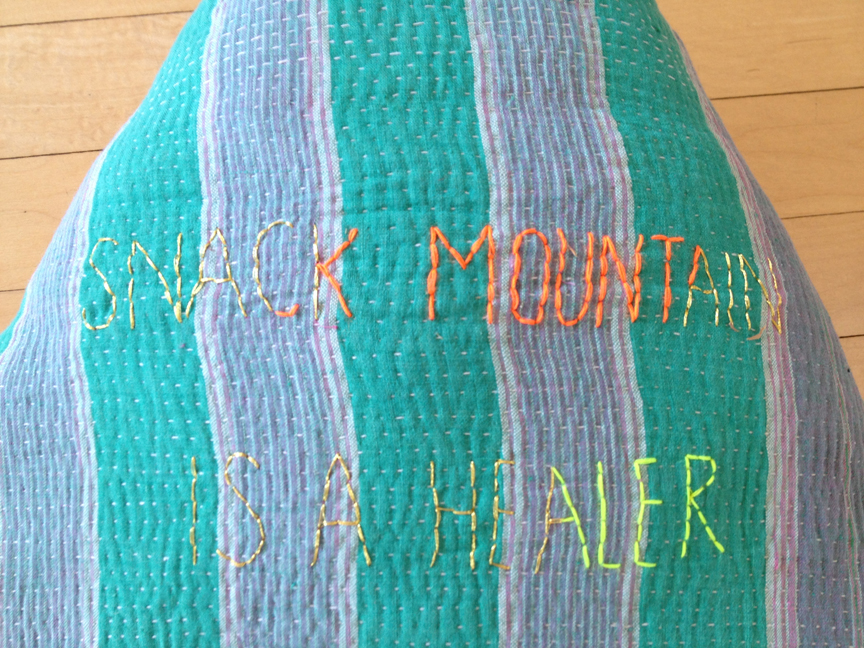 OMG! I nearly cried! Snack Mountain is a healer!! Zeynab's note read "Sending the little mountain to hug the Big Mountain for me." Wowowowow! I was blown away! Here I am snuggling with my little mountain next to my bedfellows.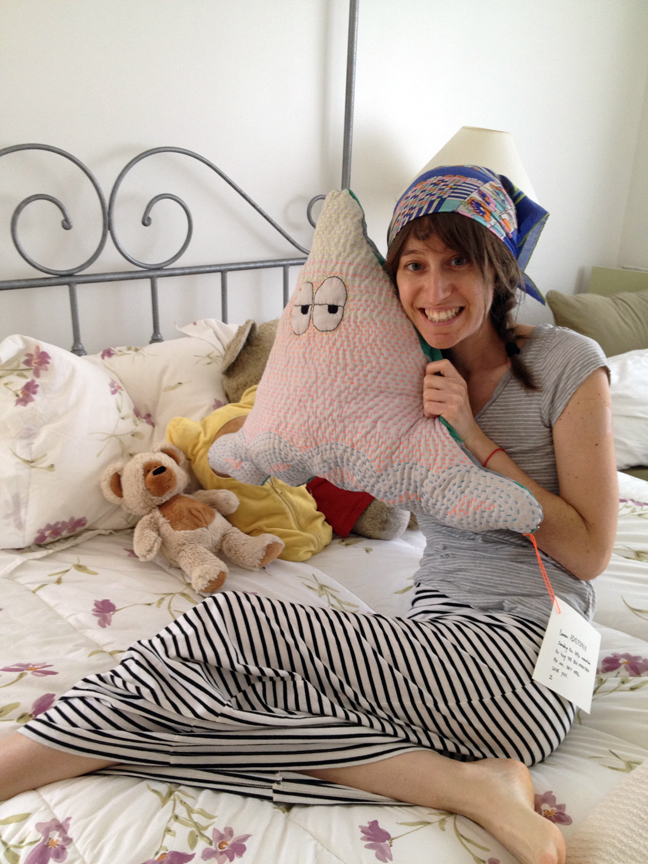 I love him so much and I am so touched away that Zeynab made him by hand! I feel so lucky to have so many amazing friends!!! Ahhhhh!!!!
Now onto the cookies! My friend Lauren made these for me when I first got sick and I was psyched to get another delivery of them.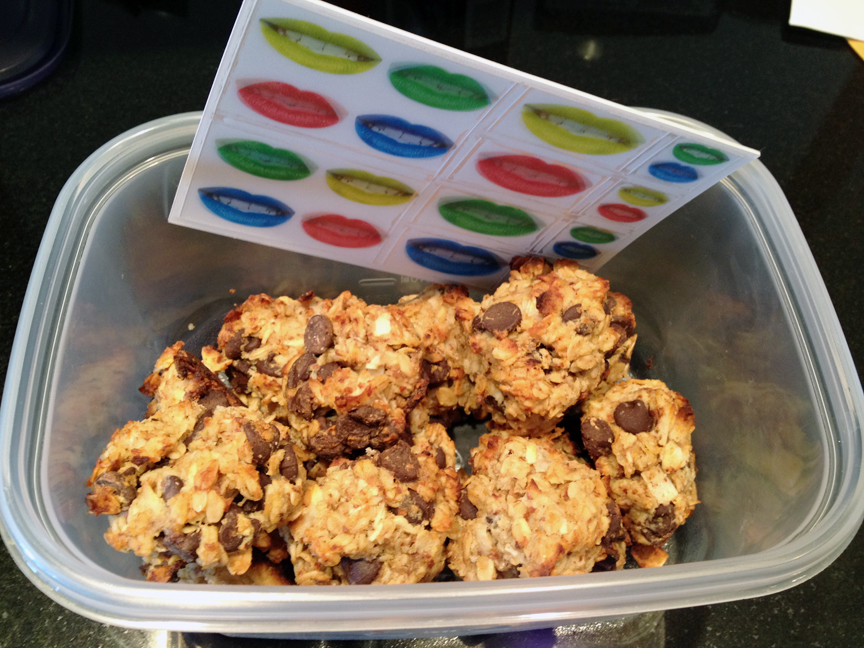 I asked her for the recipe to share with you because they are so good. They are gluten-free, vegan and sugar free if you can believe it. Of course, the recipe comes from one of my favorite food blogs 101 Cookbooks!  Speaking of good blogs and healthy desserts, I wanted to share a link to Matchbox Kitchen. I met Sarah from Matchbox Kitchen at these Women's Entrepreneurial Group meetings in LA that both Satsuki Shibuya and Erin Dollar from Cotton and Flax have organized. At the last meeting I attended (I think it was January or Feb), I remember Sarah talking about how she felt bad that she made cakes that were not exactly healthy for people. (Her cakes are so beautiful and make me drool everytime I see pictures of them). We reassured her that her cakes were bringing joy to people so even if they weren't as healthy as spinach and quinoa, it was still bringing a positive outlet for people at celebrations, etc. So I visited her blog the other day and saw that she is doing a month-long series of healthy desserts that are gluten-free, vegan and sugar free! And from the pictures of recipes so far, I am very impressed. First, I am impressed by her goal of making healthy desserts since it was something that she was concerned about. And secondly, I can't believe how good the desserts look considering they are gluten and dairy free! She is a seriously skilled baker!
I say yesterday was a good day because earlier in the week I accidentally stumbled on some terrifying statistics about advanced cervical cancer while reading the New York Times during breakfast and it brought on an intense bout of fear and anxiety. But yesterday, I feel like I turned a new leaf in terms of staying positive and not focusing on the scary stuff. Steve has been an amazing help in that department too. We were joking that he is my positivity drill sergeant. Hahaha. And he gave me a good new mantra to repeat when I am worrying: "I am getting better everday." I am thinking that it would be nice to make a typographic illustration of this phrase for myself sorta like this one I made ages ago in grad school.
In an effort to stay positive and have fun I am entering the amazing world of CRAFTS! Yesterday I gesso'ed a bunch of shells that I collected and Fire Island.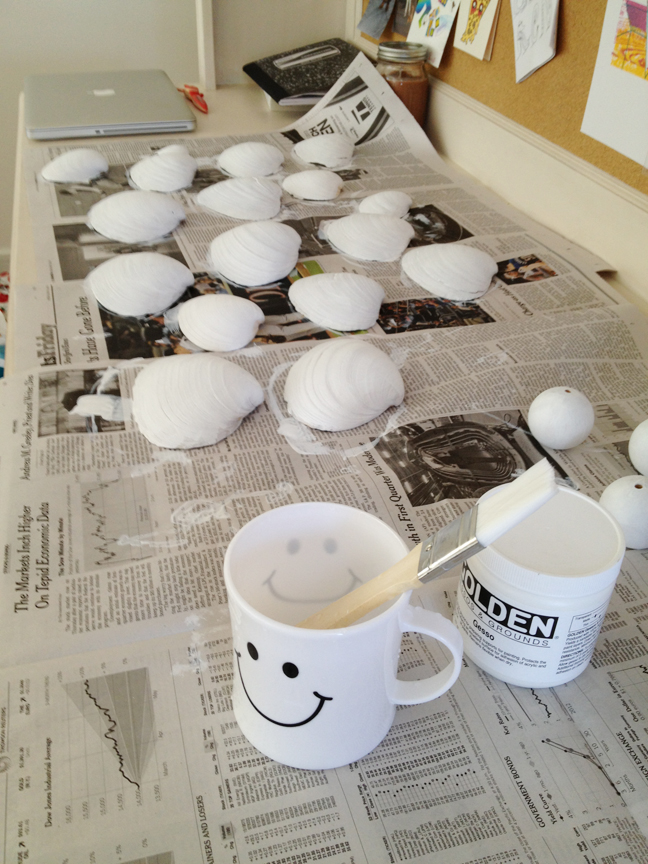 And I just returned from craft wonderland (aka Michaels) with a bin of amazing supplies!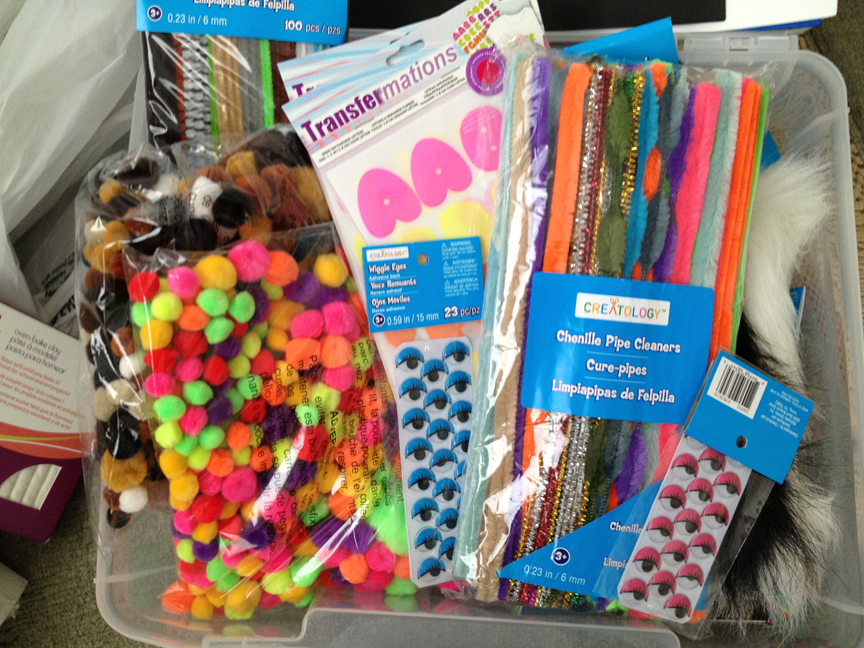 It's a good thing that it's supposed to rain for the next few days because it's time for a Crafternoon!!! I want to make some crazy, hairy, poofy shell characters!! Stay tuned!!
Finally, another event that really touched me yesterday was an incredibly sweet comment on my post from Tuesday from a girl named Charlotte . I didn't know if anyone other than my friends and family read my blog and to hear from her and that my writing inspired her really made me feel great. My friend Aurora and I went for a walk in Central Park yesterday and we were talking about blogs and how sometimes they can be kinda superficial and make you lust after the bloggers glamorous lifestyle instead of bringing positive energy into your day. Aurora said how she appreciated how in my first post about my diagnosis I wrote about how I hoped my writing would help someone going through something similar or inspire people and now I know that it has. I feel really happy about this. So, on that note I'll sign off. This has been an incredibly long one! Hope you've enjoyed it! Xoxoxo, Lauren
Oh! One last thing I wanted to add from yesterday! I was walking in the neighborhood with my brother and his wife around dinner time and we passed a restaurant with people sitting on tables outside. There was an older man sitting at a table of three people. They all looked like they had finished eating except that the man was rubbing his leftover mashed potatoes into his hands. It was so bizarre and we all noticed it because it was such strange behavior! It kept me chuckling until bedtime last night. Are there secret moisturizing properties to mashed potato that most of the world doesn't know about? Should I try this instead of my Cetaphil? Hahahahahaha.