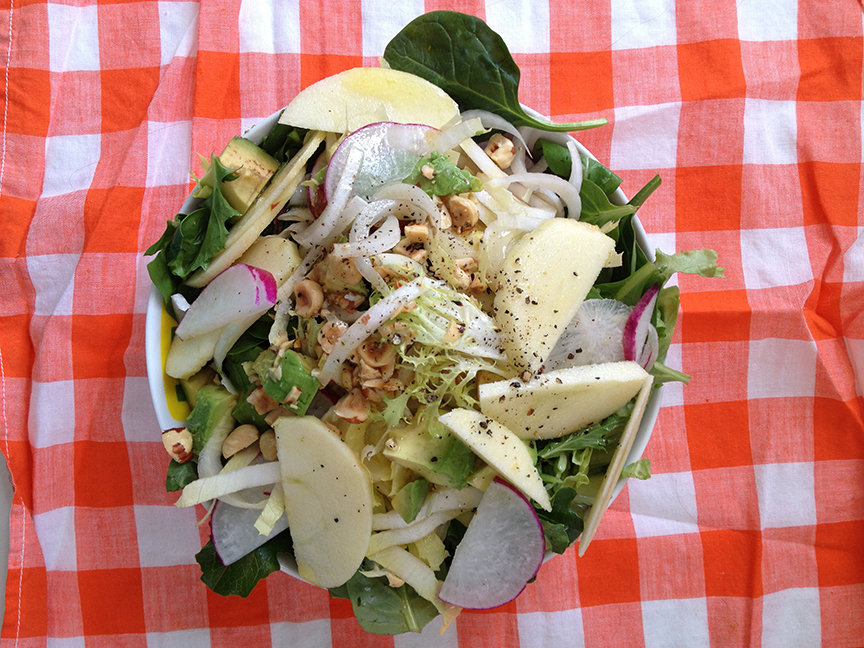 It's been a great eating week here at Snack Mountain (as it should be!) I cooked a lot and ate at some amazing new spots! I don't even remember which day I made this salad above but I have a few things to say about it. First, hazelnuts make a great addition to salads. Secondly, I am now obsessed with radishes. I never used to like them and now I can't get enough. Finally, I am going to share with you my secret ingredient for making quick amazing salads at home! I use incredibly flavor-packed aged white balsamic vinegar that I order online from this store in Berkeley called Amphora Nueva. My personal favorite is the Cranberry Pear but I also love the Oregano. They are only 18 bucks for 750ml! There are stores that sell the same product in LA but for 3 or 4 times as much! The shipping costs are definitely worth the order! I also order their house blend olive oil sometimes which is only 12 bucks for 750ml. I wasn't planning on ranting on salad dressings but in general I highly recommend using REAL olive oil and by that I mean anything that you buy at the farmer's market. For more information check out this book. Most store bought olive oil ain't real!!!
Well! Moving on! I hosted an excellent dinner party where I made Vegetarian Pozole! I didn't have time to source dried hominy but using canned still came out pretty good! Here's a spread of the fixings with broccoli!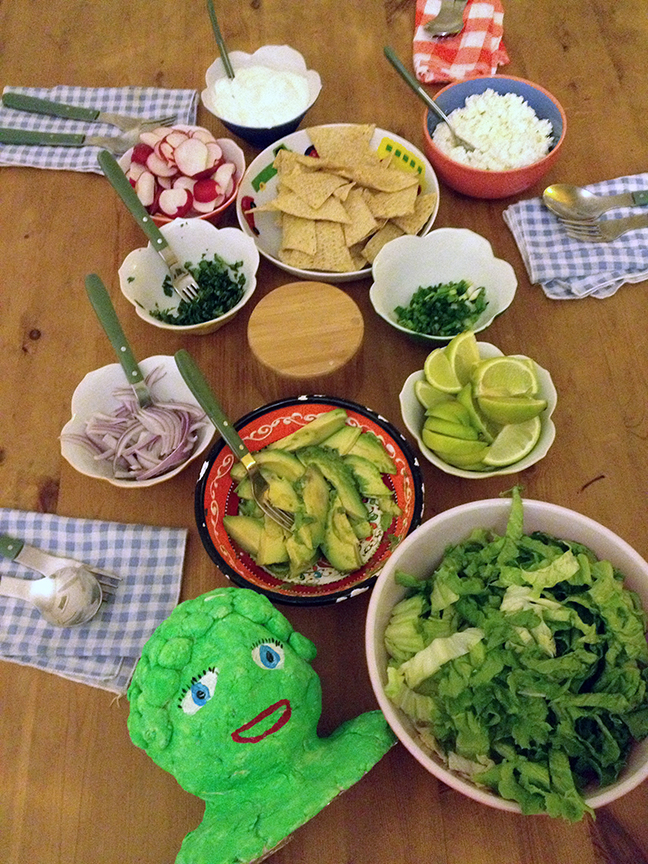 And here's a shot of a bowlful with fun House Industries type that I placed with their new fun iPhone app!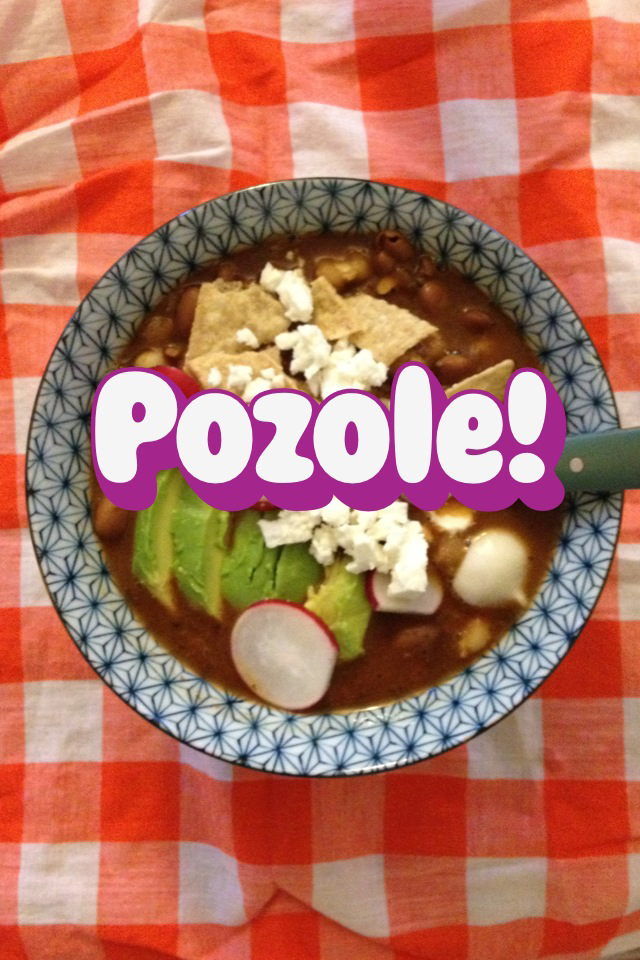 Then on Friday, we went to the new restaurant Hinoki and The Bird in Century City and it blew my mind!!! Their signature black cod dish was outstanding and they have the best Kale salad I've had (and I eat a lot of Kale Salad!) The salad had three kinds of kale: crispy, raw and blanched with a light flavorful dressing plus almonds and few slices of cheese. The cod is served with a smoking piece of cedar on top and was served with super-umami hen of the woods mushrooms and pistachios!! (Please pardon the flash in the image below)…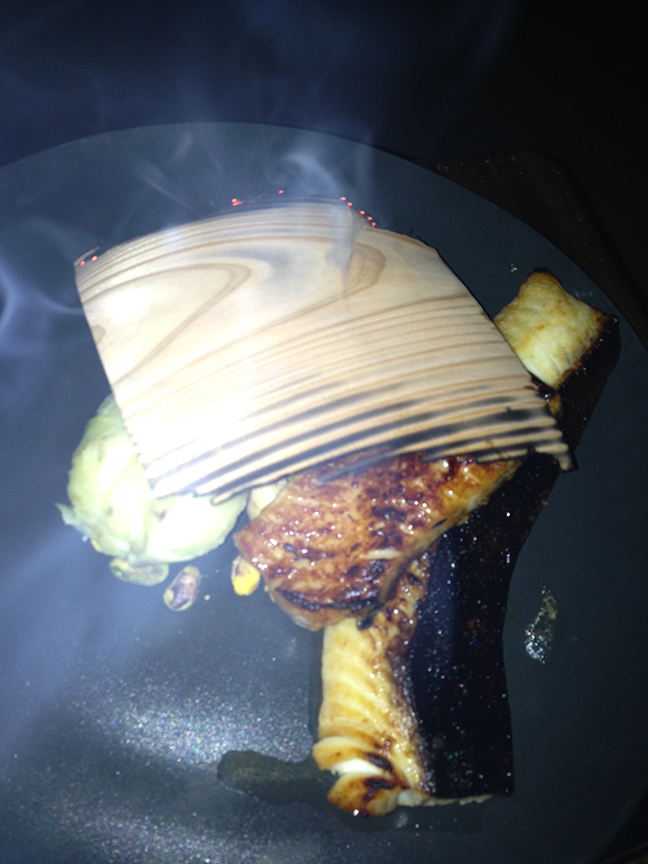 And the desserts! OMG OMG OMG! They have this black sesame creation that I can't even describe but you just have to go and try it! We were lucky enough to be seated right next to the window into the kitchen and got to watch them make the beautiful desserts. We didn't order this chocolate dessert but I love how they made it look like windy tree branches!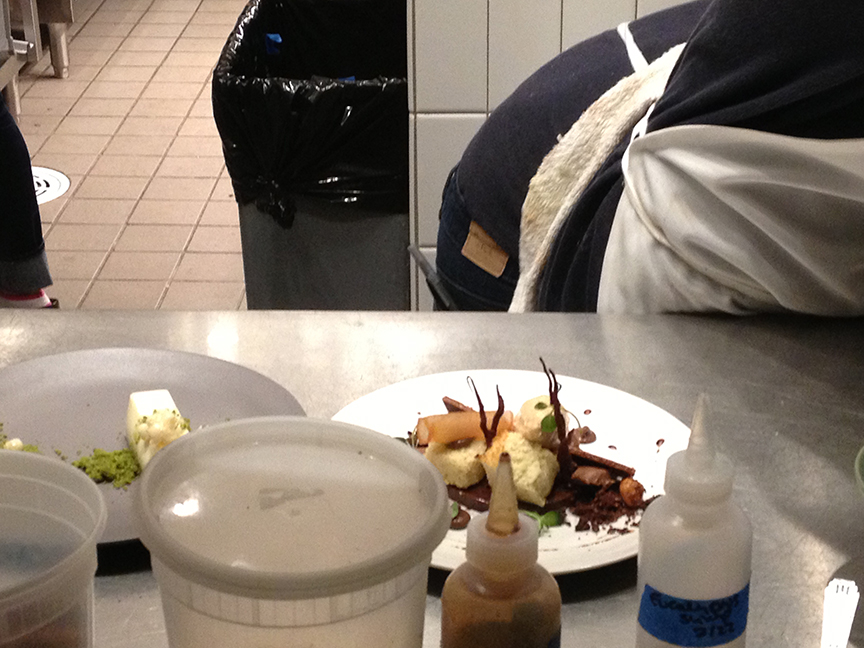 Then, of course, the next day we went to SQIRL because we are addicted and just can't get enough. I got a big container filled with hazelnut butter that will last me about a week (if I am lucky)…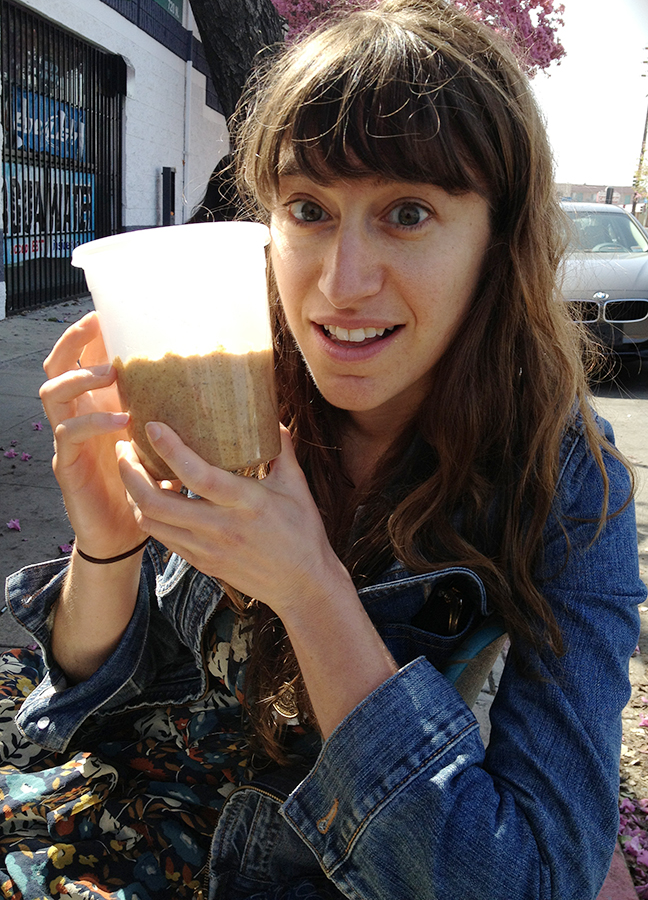 And their broccoli is so amazingly delicious!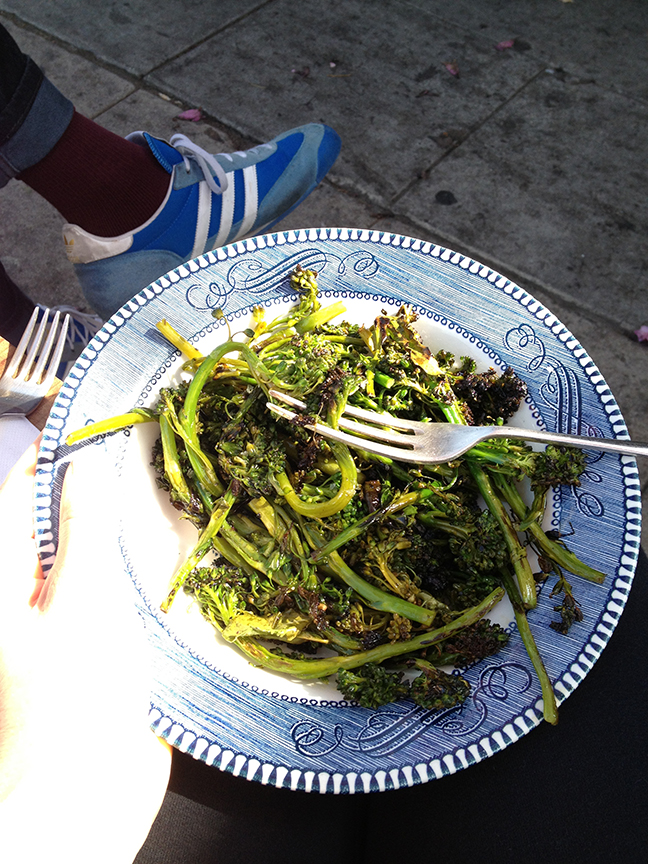 On Saturday night, we went to see my friends Gluekit's show at the Scion Gallery on Melrose (yes, I drove their in my Scion XB!) The show had all of their new products they are making including books, skateboards, records and pillows!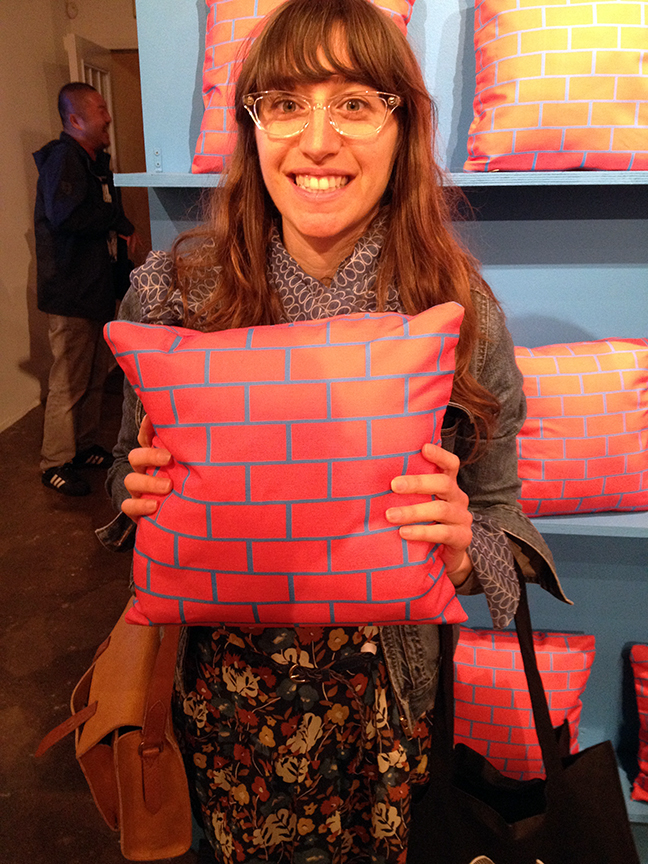 They are the coolest and I'm so inspired by how prolific they are! They just keep making stuff all the time! It was so great to catch up with Kathleen!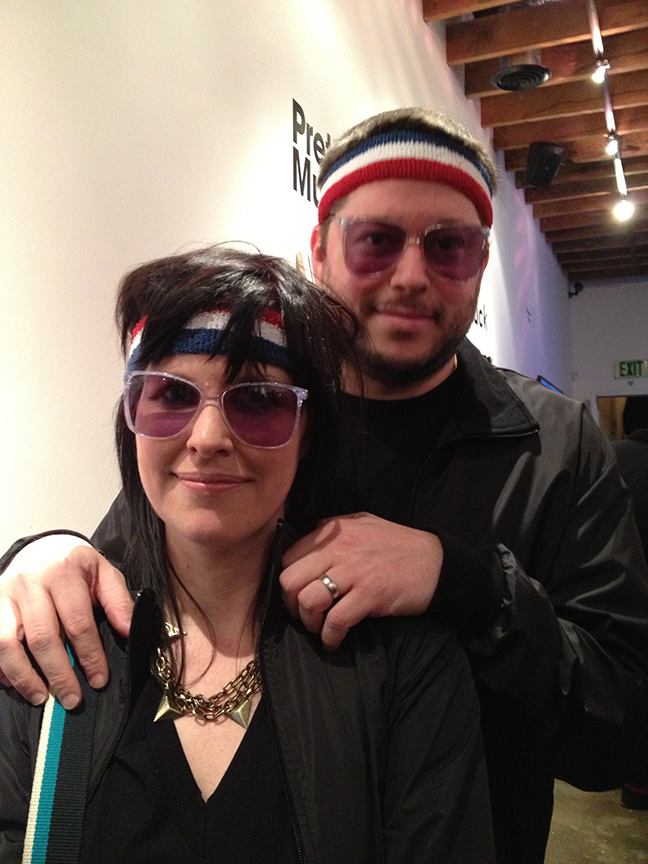 I actually just googled Gluekit and it's super funny because the first image that comes up is this illustration they did for New York Magazine with me in it is! Hahahahaha. I'm famous! Look at me in my sunglasses!!!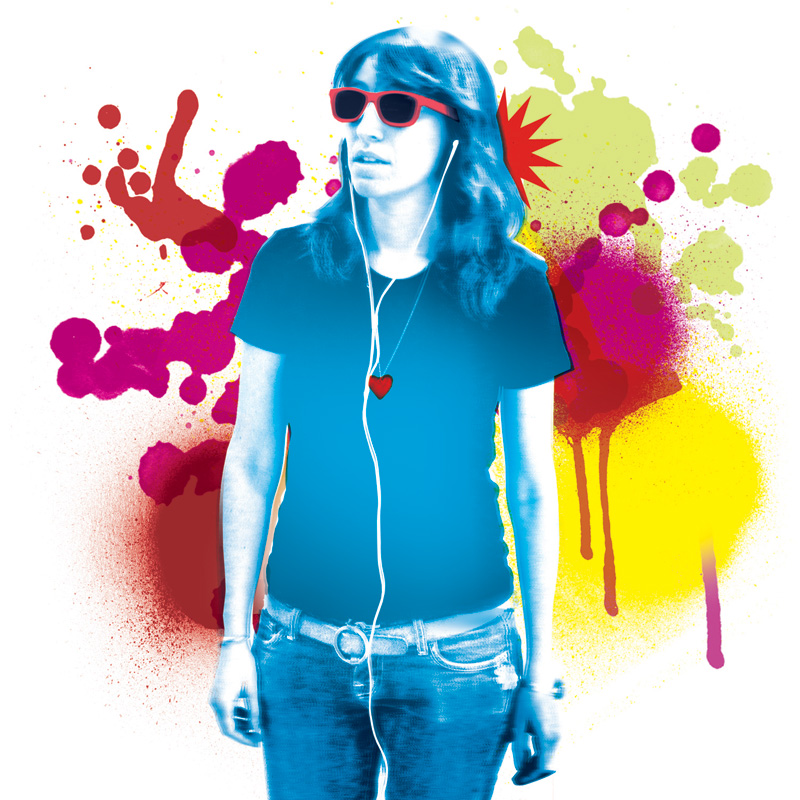 Finally, I have some exciting news in my freelance world. I just signed a contract to be the Creative Director of Next City which is an online magazine about Urban Planning. I redesigned their logo back December, and have been doing illustrations for them too. Right now, I am re-designing their website right now so stay tuned for the launch! Cheers!
P.s. I've decided that I am gonna start posting recipes on here in both text and PDF format so get psyched!!