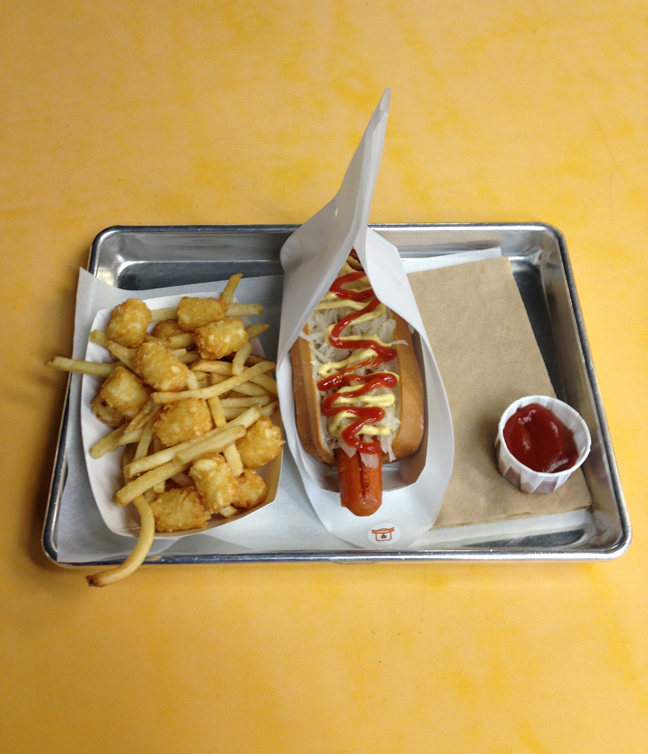 You might look at the food above and think it looks normal. Well, its not. What appears to be a hot dog is actually a CARROT! On the eve of my big move, I went to the beloved Farmer's Market building on Fairfax (not to be mistaken for an actual farmers market) which is one of my absolute favorite places in LA. My friend and I were grabbing a quick bite before going to see Repulsion at the Silent Movie Theatre (it's worth seeing if you are wondering). So, my friend said he wanted to check out this new hot dog place called Fritzidog and I thought I would walk over to see it not thinking I would eat there. And then I found out that they had vegan hot dogs with gluten-free buns. I was in a giddy (almost manic) mood because of my upcoming move so I indulged. I guess I was distracted when the girl was describing the vegan dog to me because I missed the part about how it was an actual carrot cooked for a long time in a sous-vide. It wasn't until I bit in that I realized. Check it out: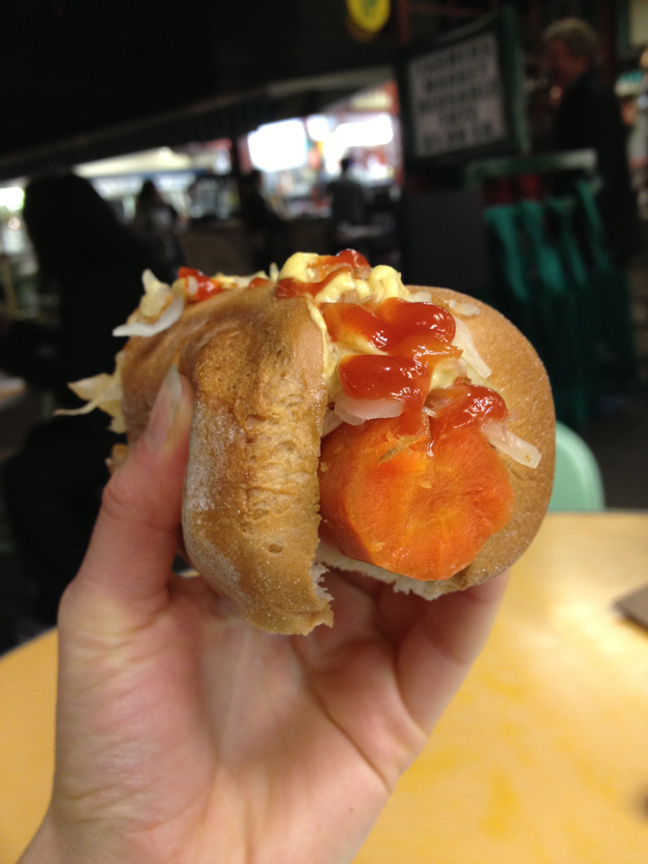 Pretty crazy, right? The seasoning of the carrot was great and I would totally eat it again. The gluten-free bun was a little dry. But my friend said his normal bun was dry. The dijon mustard was spicy and deeeelicious. Anyway, the move went great and I am in love with my new apartment. Now that I have my own personal kitchen, I finally unpacked ALL of my kitchen stuff (most of which has been in boxes in various garages for the past year and a half). So in the process of unpacking I found my beloved treasures. First, I found my Garfield Lasagna dish which was originally my Mom's. Although, this now strikes me as odd since she doesn't own anything else Garfield related.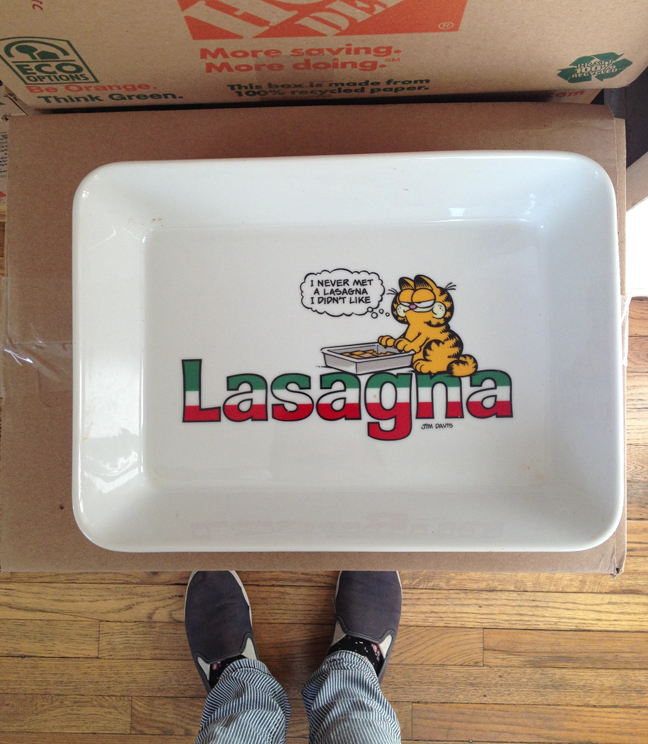 The next gem was one of my treasured McDonald's happy meal cups that has a field of Hamburgers on them. So much love: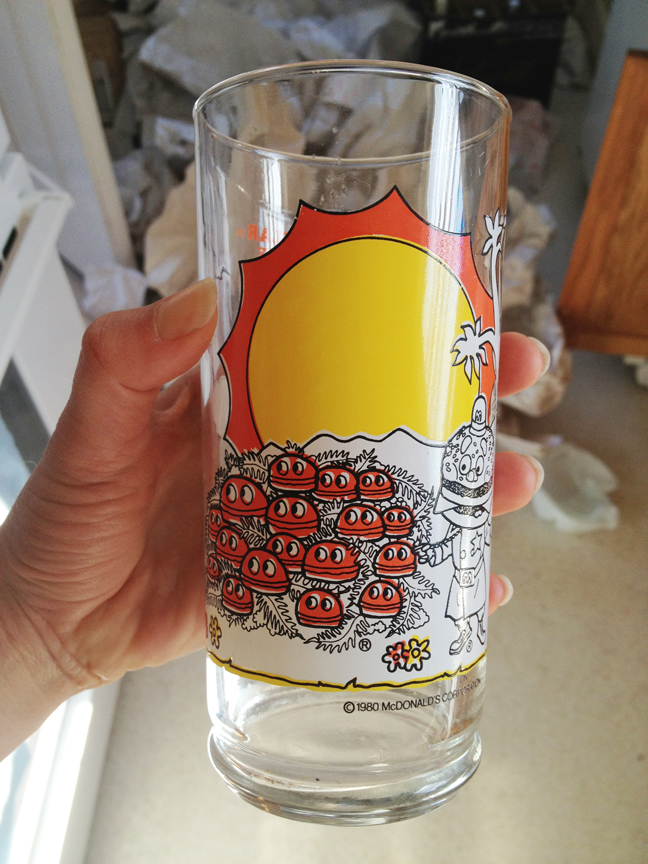 Finally, I found this hand-painted mug that is probably my most cherished item because of the experience of when I found it.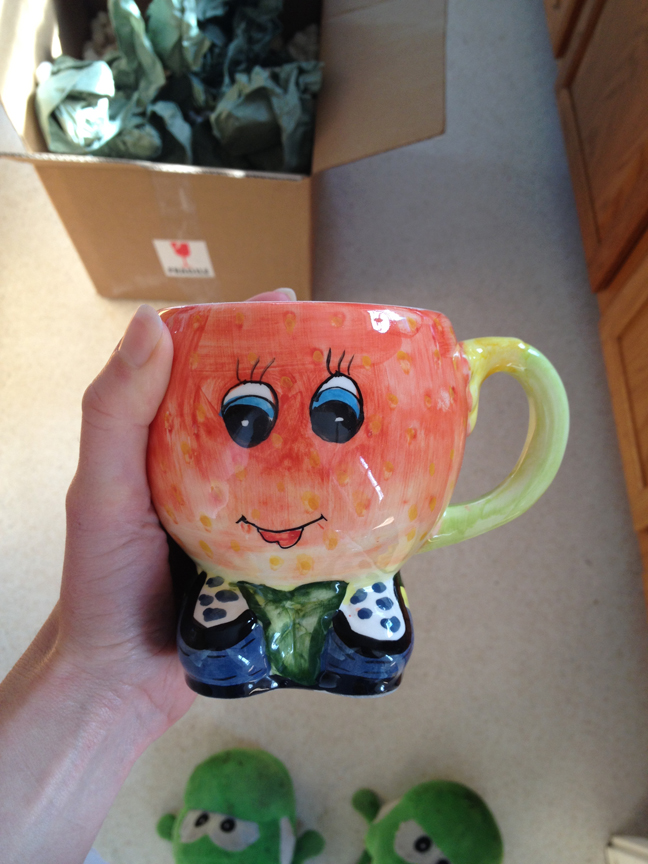 This is going to be kinda personal but what the hell! Here goes! I bought this mug from a yard sale on Silver Lake Blvd back in April of 2008 long before I ever dreamed that I would live in Los Angeles. I was visiting one of my best friends while taking a little vacation from work with my ex-boyfriend who had never been to California. That morning I had found out that I was wait-listed at Yale and I was pretty upset. I was not getting along with my ex at the moment and I remember driving up Silver Lake Boulevard feeling overwhelmed with not knowing what I would do if I didn't get into Yale. I pulled the car over. I don't even remember why. Maybe I saw the yard sale? Anyhoo, I got out and walked over to the sale and saw this adorable mug. For whatever reason, it had a calming affect on me and allowed me to cope with the intensity of the moment. A month later I got in off the wait-list and here I am today. I look back on this moment as a kind of foreshadowing for how Los Angeles is a place where I can find calm and creative inspiration. I'm glad that I found my way back here. Thank you mug!