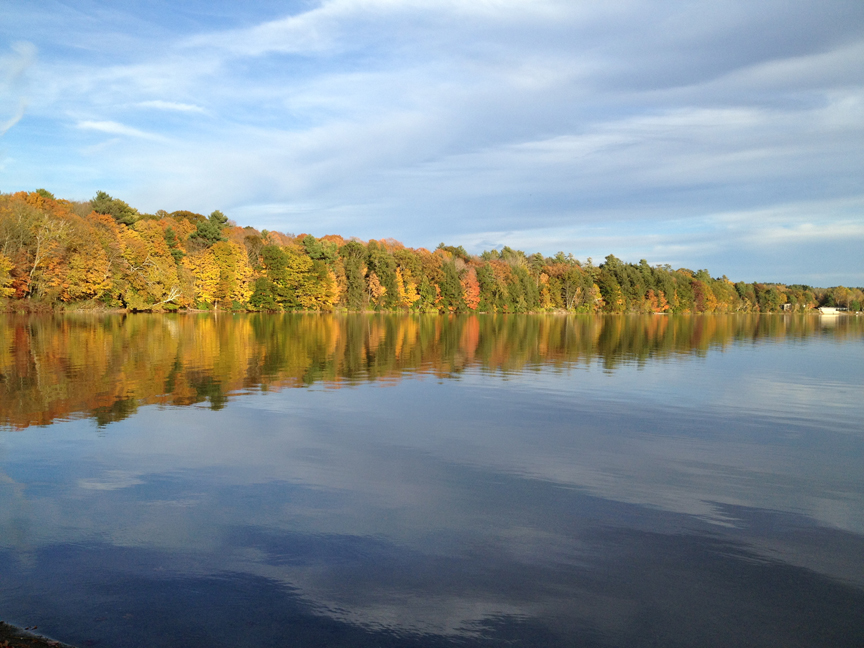 So my mom and I went to Kripalu this past weekend. It was magical to be there. Check out this amazing lake! We went on several walks to the lakefront from the main building through the woods and saw many bunnies and fuzzy caterpillars! We had signed up for this Kundalini meditation workshop but when we got there we found out that you had to wake up at 4:30am both days for 2.5 hour chanting sessions! While I am not totally opposed to trying that one day, it didn't seem like the right program for me or my mom. So we were able to switch to just their Rest and Relaxation program where you take their daily classes and do as you wish. The food is so good but I felt like I kept anticipating when we were eating next not because I was necessarily hungry but because I was excited to try what they would serve next. So that was a little distracting but being there and walking in nature truly did provide me with peace of mind. Check out a few more nature shots of the beautiful foliage!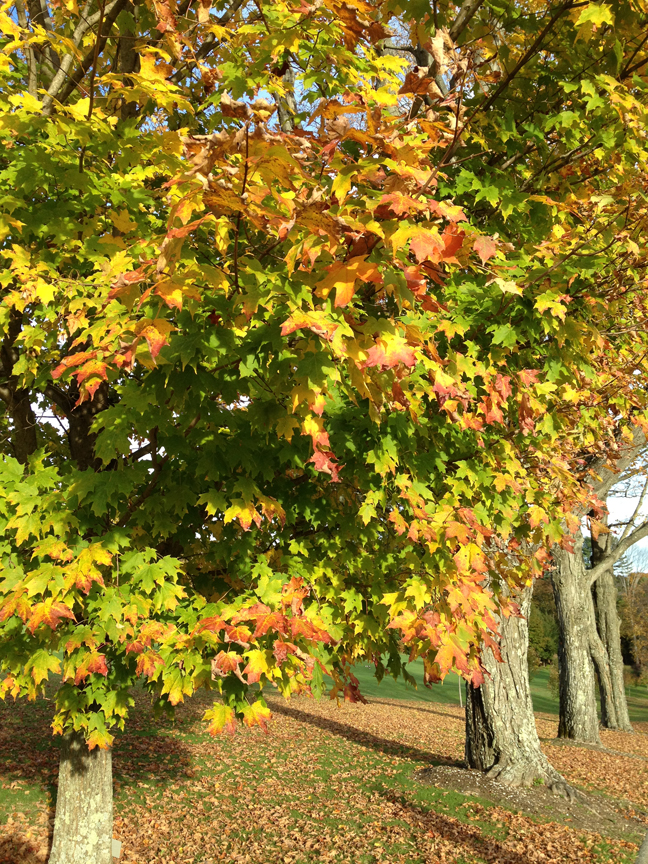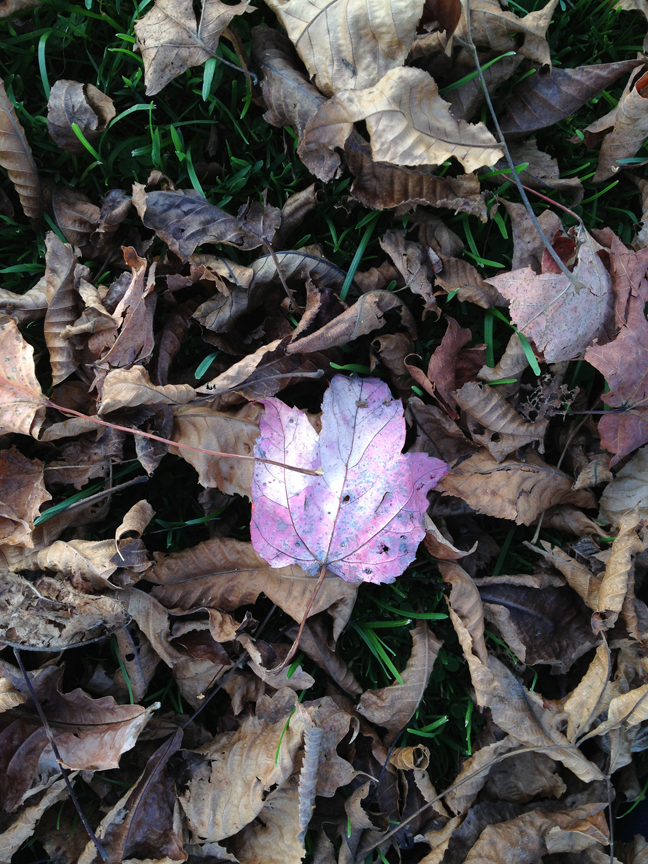 But on Saturday I noticed that I had this sore, swollen bump on my right forearm and on Sunday I started to worry about it so my Kripalu bliss faded a little unfortunately. I thought it was likely related to a recent IV infusion location that I had a problem with recently. Today I was able to meet with my doctor who confirmed that its something called phlebitis which is inflammation of the vein caused by a blood clot. Yuck. Basically, my veins have decided that they are done with chemotherapy even if my course of treatment is not over yet. So it looks like I'll be getting this port thing which is a catheter into your vein surgically inserted into my chest near my collarbone in the near future. Yuck again. But at least then I won't have to worry about my veins anymore. It's amazing how many crappy things you have to deal with in addition to the already daunting reality of fighting cancer. Last night, while trying to learn about phlebitis I stumbled on the blog of this girl named Karin who posted about having it and how she too was getting a port. I was struck by how good her writing was and noticed that this post was several years old so I clicked around to learn a bit more about her. I discovered that she had stage 4 Hodgkin's lymphoma. I always take comfort in finding out about other people who have stage 4 cancer of any kind that are still around. But then to my dismay, I clicked on the home page to see the most recent post to discover that she passed away a few weeks ago and I totally lost it. Her husband was posting about a book that they were making about quotes from her blog. I don't know if it's just because she passed away very recently but something about it felt so raw and sad to me. I guess I feel some kind of connection because she was a year younger than me and that she too had symptoms for only a month before she was diagnosed with stage 4 cancer and that scares the living daylights out of me. If there's one thing I've learned it's to never compare myself to anyone and even though I'm just beginning on my journey somehow it felt like I was looking at my life from the outside in. Her battle lasted 4.5 years and she chronicles her entire course of treatment over those years on the blog in addition to featuring particularly amazing posts. I usually don't let myself look at blogs like this because they tend to scare or upset me but I could immediately sense that there was something in her tone of voice and what she wrote about that would be helpful for me in my own battle. She also wrote some amazing articles for the Huff Post's Generation Why section about young adults with cancer. She seemed to focus on staying positive, expressing herself with her exceptional writing skills, and enjoying life which is what I hope to do myself. My heart goes out to her husband and family and I hope that wherever she is, she feels peaceful.
I think it's time for an infinity hug. What's that, you ask? I saw this couple the other day at Candle Cafe and I couldn't help but take a picture of it.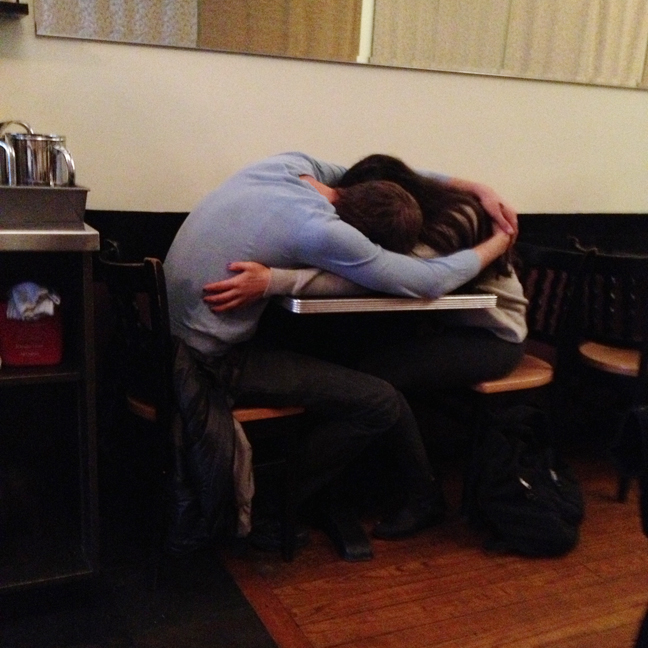 It's kind of saccharin but maybe in the best way possible. Kind of like Love Is cartoons? Which reminds me to share with you some jewelry I bought from my good old pals at Hullabaloo who used to sell Love Is necklaces. Why do troll necklaces and pizza earrings bring me so much joy?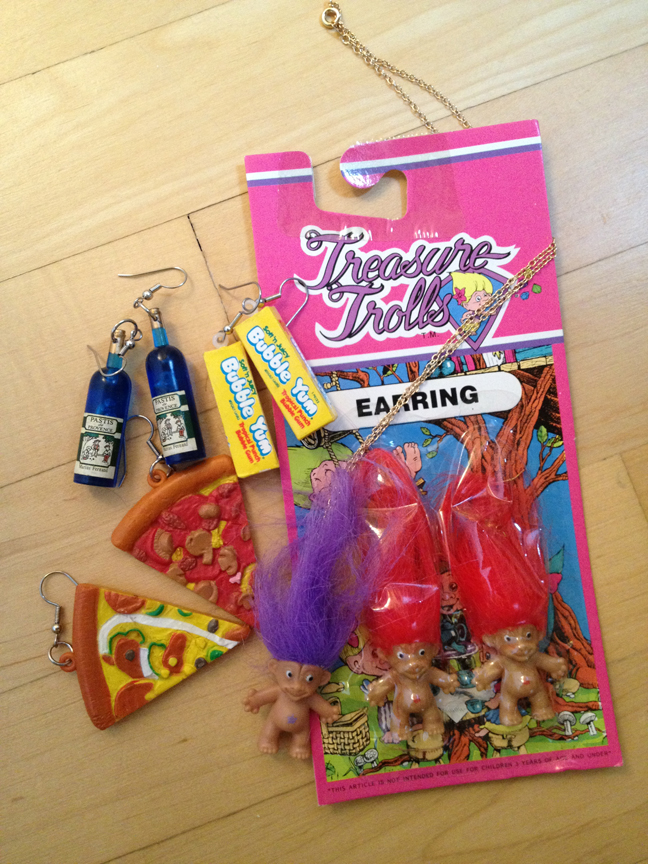 I really must get to bed but one last thing! Today I went to the farmer's market and couldn't help but ask the meat vendors about Turkey Vultures but none of them knew of anyone ever eating them. My quest for this golden meat is not over yet. I'm considering reaching out to David Chang and Anthony Bourdain who surely would be up for a challenge like this, no? I found this other study that researched how native people of Colombia have used the Black Vulture for cancer treatment which usually involves drinking the blood of the animal mixed with wine or berry juice!  "The vulture is taken, without hurting it, the vein is cut and the blood is extracted, half of a small cup is collected and is mixed with wine"  This sounds like it came right out of an Alejandro Jodorowsky movie. For those of you not familiar with his films I recommend El Topo, Holy Mountain or my personal favorite Santa Sangre. Ok, I must meditate now and get to bed. Love to all! xoxo Lauren