So I wasn't expecting to post twice today but I just actually made something that I want to share with you. So as you probably know I am enrolled in the Institute for Integrative Nutrition program online and we were asked to set our intentions for the year long program. My interest in the program is both to learn to be a health coach but also to integrate my design/illustration skills with my passion for food and health. A few weeks ago I decided that the best way to integrate my two passions would be to pick up the icon project that I started my prelim year at Yale in 2009 where I designed holistic health icons that I made into rubber stamps and used to prescribe remedies for my friends on a prescription pad. Kinda funny that now I am actually studying to be a health coach! My goal for the new icon project is to design one a week, make them into rubber stamps and use them as I work with clients. I also want to make cookbooks and other merchandise for the Snack Mountain brand! It's already week 4 so I've gotten a slow start but over the weekend I was sketching a bunch of different ideas and I just drew one of my ideas in illustrator! Allow me to introduce, Mr. Smoothie!!!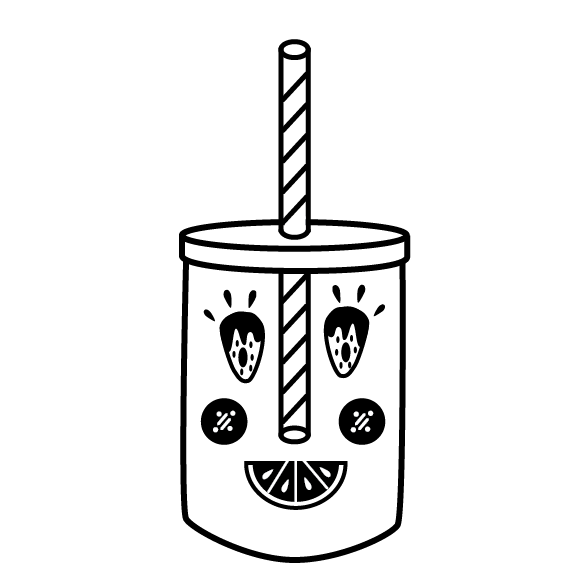 I have been a big fan of smoothies for the past 7 years and they are a great source of fruit, fiber and protein if you add powder which I usually do! (I am not a fan of the whole juicing movement but do enjoy a good green juice on occasion). The eyes are supposed to be strawberries and the cheeks are banana slices. It's a little abstract I suppose but I think it's fun and Japanese-esque. I'd love your feedback! Illustrator is really fun for me to work in so I'm pretty pumped about this project. I tried working on it over the weekend but got frustrated and so I'm happy that toaday I designed this guy in about an hour (after refining the sketch over the weekend). So now go get yourself a smoothie! Or you could make one! Here's a recipe!
Mr. Smoothie Supreme
1 banana
1 cup frozen strawberries or blueberries
1 peach/nectarine
protein powder of your choice (these days I use hemp protein)
1 cup of coconut water (Harmless Harvest is the best!)
Puree all ingredients in blender (I am a huge fan of the Cuisinart Hand Blenders)
Enjoy!