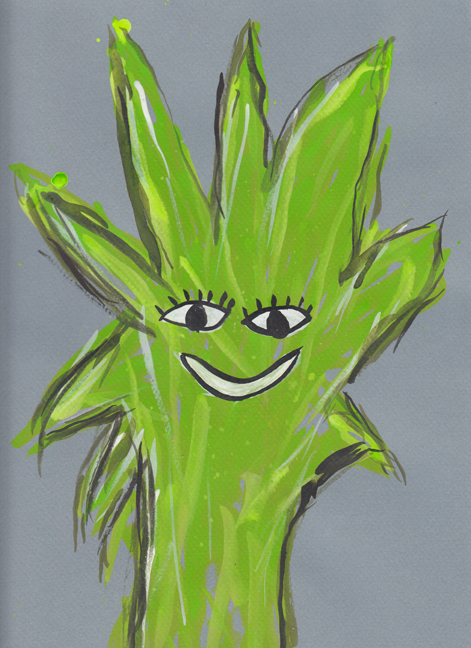 I have become sooooooo LA! Today I am starting a 3-week cleanse! Don't worry, it's not one of those crazy juice cleanses where you don't eat solid foods! It's a cleanse I am doing via the Akasha Center which is an amazing Integrative Medicine Clinic in Santa Monica. Basically, you drink 1-2 protein smoothies a day (with supplements they provide) and then you don't eat wheat, dairy, alcohol, coffee, soy, eggs, and nightshades. I avoid dairy to begin with and have been wanting to try a 3-week break from wheat for a long time! You are also supposed to exercise 5 times a week and do yoga and breathing exercises!
So! One of the things I wanted to focus on while doing this cleanse was making new work. It didn't occur to me until today that I can combine the two ideas into a drawing series! So, each day, I will make and **hopefully** upload a drawing/illustration/painting inspired by my cleanse.
To be honest, I don't really like this first drawing (it's supposed to be dandelion greens which I ate today!) but that's the whole idea. I'm cleansing! Hahahaha. Let's see how this goes!