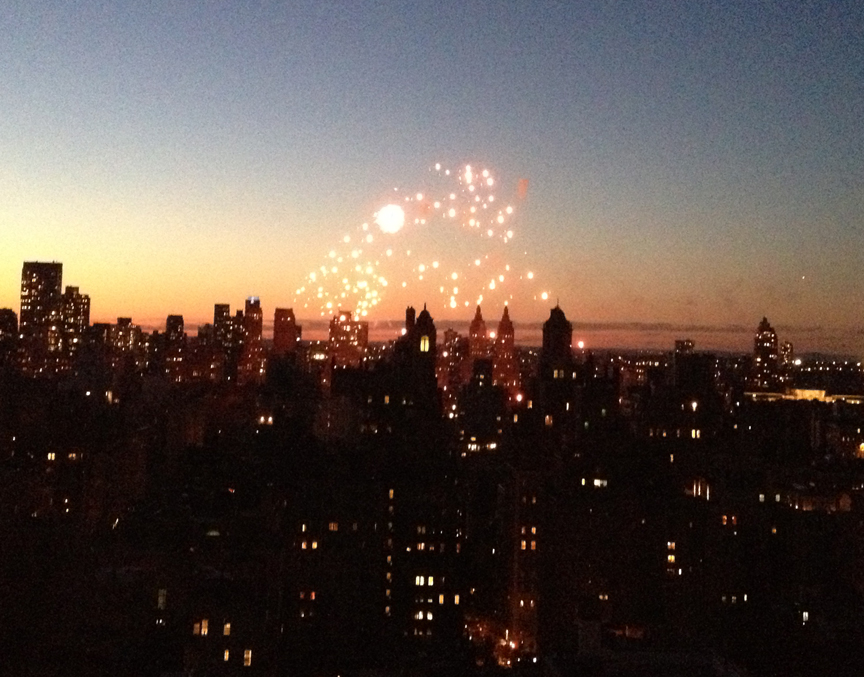 Yesterday afternoon my mom and I went on a walk in Central Park. It was around 5ish and the light was magical. It was the kind of light that one must experience and that no iPhone could capture. A fancy camera might have been able to do so but I didn't have mine with me. Here's a shot of the sky hitting some 5th avenue buildings.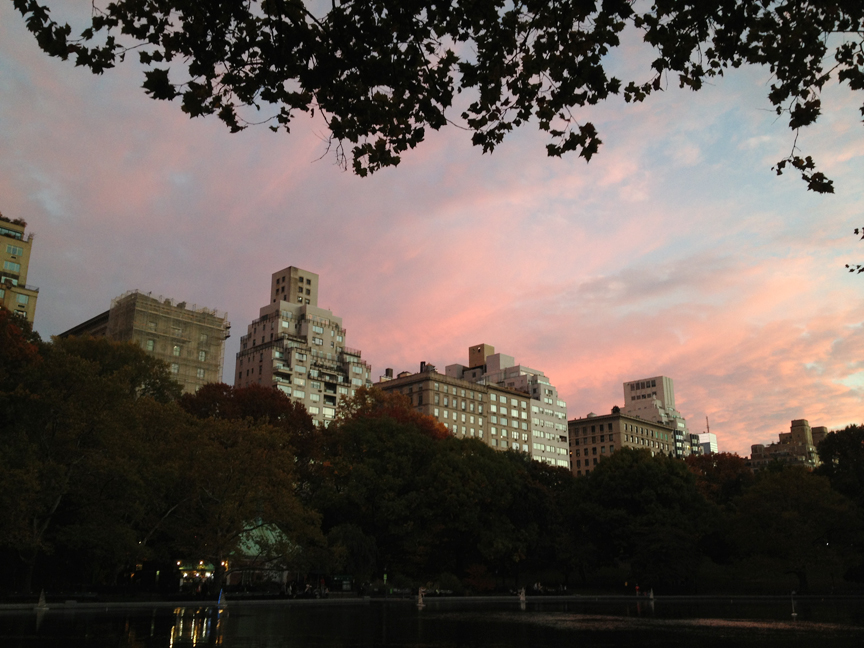 The buildings looked more green in person making me wonder if Ghostbusters 3 was about to start. Then we got home just in time for fireworks in Central Park for the marathon. Again, photographs couldn't really capture how pretty they were but the picture at the top of the post makes it look like someone sprinkled magic fairy dust over Manhattan. I haven't been outside yet (shhhh…don't tell anyone) so I can't tell if anything is different. Haha. I've been at my computer all day so far trying to make some updates to this blog! I've been wanting to do this for so long and it's still a work in process. You will notice some new pages including a short (soon to grow) Recipe Index page and a Resources page where I share some useful links and info. And then!!! I created some social media buttons and figured out how to add them to the sidebar! It was way easier than I thought it would be. My amazing friend Megan who is a web designer was going to help me but then I realized I could do it! I also added a picture and bio on the sidebar. I feel like my blog is starting to look like a real blog and for whatever reason, it makes me happy! And I forgot how satisfying it is when you can code something yourself! Yeah! Moving forward I want to add pages about the icon project that I plan to keep working on. I've fallen super behind on that. So to get myself inspired, I created a prescription for healing for myself to post on my actual bulletin board in my room.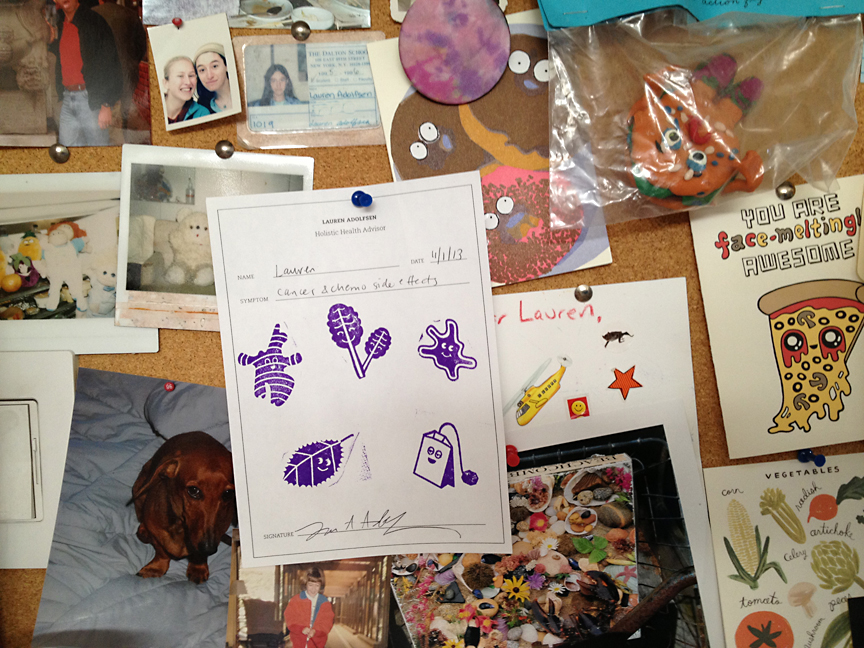 I made the stamp kit back in 2009 when I was at Yale. Who knew how relevant it would be for my life right now! In other food news, I have a new form of crack and I'd like to give you a recipe! It's for a beet pesto that the amazing Rachel adapted from this recipe.
Vegan Beet and Walnut Pesto
2 cup red beets, chopped and roasted
1 cloves garlic, roughly chopped
1 cup walnuts, roasted
1 cup olive oil
2 tablespoons lemon juice
1 tablespoon nutritional yeast
Salt to taste
Preheat the oven to 375 degrees F. Wash and scrub the beets and pat dry. Chop into ½" cubes and place it on a sheet of foil. Wrap the chopped beet in foil, making a foil packet. Place the packet on a baking sheet. Roast in the oven for 50 minutes, or until beets are soft and juices are seeping out. Allow beets to cool completely. Add all ingredients except for the oil to a food processor or blender and pulse several times. Leaving the food processor (or blender) running, slowly add the olive oil until all ingredients are well combined. If the pesto is too thick for your blender to process, add a small amount of water until desired consistency is reached.
Here you can see the bright color of the pesto next to some other antioxidant rich foods!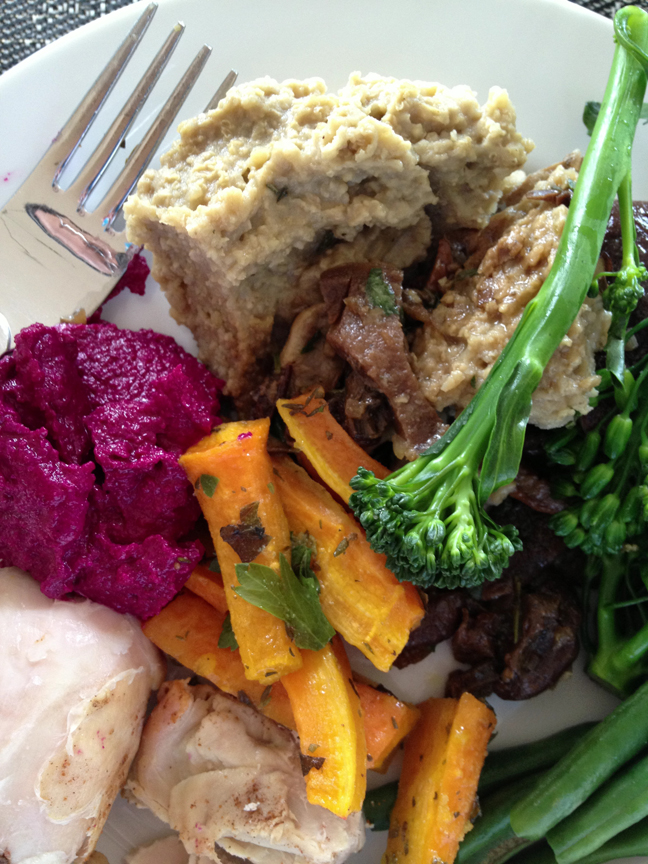 Let's just say I was eating well this week despite the fact that I had to have another painful oral surgery procedure. It wasn't another incision but something to try to prevent future infections. He said it wouldn't be that painful but Thursday night I was in an extreme amount of pain and ended up having to dip in to my stash of leftover narcotics. Haha. I also utilized some amazing guided visualizations by Ramdesh Kaur. Wow! She actually has a post on how to relax in the dentist chair. If only I saw this before I went in for the procedure! This is the CD that I've been using. I highly recommend it! Well, I should really go outside. It's supposed to be lovely! Tonight my mom and I are going to see this play written by Amanda Peet starting Sarah Jessica Parker and Blythe Danner. When I was eating lunch I read this NYTimes article about it. Seems pretty cool! Well, I will catch you later! xoxo Lauren